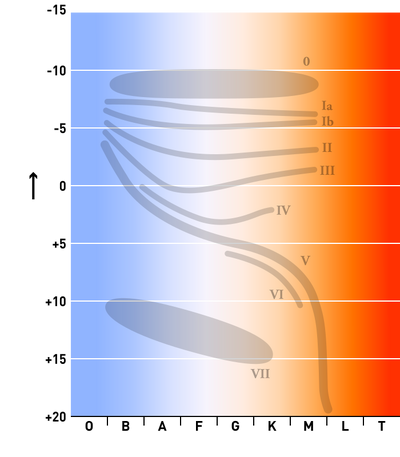 The brightest stars range from the Sun's brilliance to +2.50 magnitude, determined by their maximum, total or combined apparent visual magnitudes as seen from Earth. Several of the brightest stars are binary or multiple star systems, that appear to the naked eye as single stars. The given list below combines/adds the magnitudes of bright individual components. Proper names given in the list below are those approved by the Working Group on Star Names
Measurement
Edit
Apparent visual magnitudes of the brightest star can also be compared to non-stellar objects in the Solar System. Here the maximum visible magnitudes above the brightest star, Sirius (−1.46), are as follows. Excluding the Sun, the brightest objects are the Moon (−12.7), Venus (−4.89), Jupiter (−2.94), Mars (−2.91), Mercury (−2.45), and Saturn (−0.49).
Any exact order of the visual brightness of stars is not perfectly defined for four reasons:
Table of brightest stars
Edit
The source of magnitudes cited in this list is the linked Wikipedia articles—this basic list is simply a catalog of what Wikipedia itself documents. References can be found in the individual articles.
V Mag.
(mV)
Proper name
Bayer designation
Distance (ly)
Spectral class
−26.74
Sun
 
0.000015813
G2 V
−1.46
Sirius
α CMa
8.6
A1 V, DA2
−0.74
Canopus
α Car
310
A9 II
−0.27 (0.01 + 1.33)
Alpha Centauri (Rigil Kentaurus)
α Cen
4.4
G2 V, K1 V
−0.05
Arcturus
α Boo
37
K0 III
0.03 (−0.02 - 0.07var)
Vega
α Lyr
25
A0 Va
0.08 (0.03 - 0.16var)
Capella
α Aur
42
K0 III, G1 III
0.13 (0.05 - 0.18var)
Rigel
β Ori
860
B8 Ia
0.34
Procyon
α CMi
11
F5 IV-V
0.46 (0.40 - 0.46var)
Achernar
α Eri
140
B6 Vep
0.50 (0.2 - 1.2var)
Betelgeuse
α Ori
[6]
640
M2 Iab
0.61
Hadar
β Cen
350
B1 III
0.76
Altair
α Aql
17
A7 V
0.76 (1.33 + 1.73)
Acrux
α Cru
320
B0.5 IV, B1 V
0.86 (0.75 - 0.95var)
Aldebaran
α Tau
65
K5 III
0.96 (0.6 - 1.6var)
Antares
α Sco
600
M1.5 Iab, B3 V
0.97 (0.97 - 1.04var)
Spica
α Vir
260
B1 III-IV, B2 V
1.14
Pollux
β Gem
34
K0 III
1.16
Fomalhaut
α PsA
25
A3 V
1.25 (1.21 - 1.29var)
Deneb
α Cyg
2,600
A2 Ia
1.25 (1.23 - 1.31var)
Mimosa
β Cru
350
B0.5 II, B2 V
1.39
Regulus
α Leo
77
B7 V
1.50
Adhara
ε CMa
430
B2 Iab:
1.62
Shaula
λ Sco
700
B2 IV
1.62 (1.98 + 2.97)
Castor
α Gem
52
Am, A1 V
1.64
Gacrux
γ Cru
88
M3.5 III
1.64
Bellatrix
γ Ori
240
B2 III
1.65
Elnath
β Tau
130
B7 III
1.69
Miaplacidus
β Car
110
A1 III
1.69 (1.64 - 1.74var)
Alnilam
ε Ori
2,000
B0 Ia
1.72 (1.81 - 1.87var + 4.27)
–
γ1,2 Vel
840
WC8, O7.5e
1.74
Alnair
α Gru
100
B7 IV
1.77
Alioth
ε UMa
81
A1 III-IVp kB9
1.77
Alnitak
ζ Ori A
820
O9.7 Ib, O9 III, B0 II-IV
1.79
Dubhe
α UMa
120
G9 III, A7.5
1.80
Mirfak
α Per
590
F5 Ib
1.82
Wezen
δ CMa
1,800
F8 Ia
1.84
Sargas
θ Sco
270
F0 II
1.85
Kaus Australis
ε Sgr
140
B9.5 III
1.86
Avior
ε Car
630
K3 III, B2 Vp
1.86
Alkaid
η UMa
100
B3 V
1.90 (1.89 - 1.94var)
Menkalinan
β Aur
100
A1mIV+A1mIV
1.91
Atria
α TrA
420
K2 IIb-IIIa
1.92
Alhena
γ Gem
100
A1.5 IV+
1.94
Peacock
α Pav
180
B2 IV
1.96 (1.99 - 2.39var + 5.57)
Alsephina[7]
δ Vel
80
A1 Va(n), F2-F5
1.98
Mirzam
β CMa
500
B1 II-III
2.00
Alphard
α Hya
180
K3 II-III
1.98 (1.86 - 2.13var)
Polaris
α UMi
430
F8 Ib
2.00
Hamal
α Ari
66
K1 IIIb
2.08 (2.37 + 3.64)
Algieba
γ1 Leo
130
K0 III, G7 IIIb
2.02
Diphda
β Cet
96
K0 III
2.04
Mizar
ζ UMa
78
A2 Vp, A2 Vp, A1m
2.05
Nunki
σ Sgr
220
B2.5 V
2.06
Menkent
θ Cen
61
K0 III
2.05 (2.01 - 2.10var)
Mirach
β And
200
M0III
2.06
Alpheratz
α And
97
B8 IV
2.07
Rasalhague
α Oph
47
A5 V
2.08
Kochab
β UMi
130
K4 III
2.09
Saiph
κ Ori
720
B0 Iab:
2.11
Denebola
β Leo
36
A3 Va
2.12 (2.1 - 3.39var)
Algol
β Per
93
B8 V
2.15 (2.0 - 2.3var)
Tiaki[7]
β Gru
170
M5 III
2.17
–
γ Cen
130
A1IV, (A0III/A0III)
2.21
Aspidiske
ι Car
690
A9 Ib
2.21 (2.14 - 2.30var)
Suhail
λ Vel
570
K4.5 Ib-II
2.23 (2.21 - 2.32var)
Alphecca
α CrB
75
A0 V, G5 V
2.23 (2.23 - 2.35var)
Mintaka
δ Ori
900
B0 III, O9 V
2.23
Sadr
γ Cyg
1,500
F8 Ib
2.23
Eltanin
γ Dra
150
K5 III
2.24
Schedar
α Cas
230
K0 IIIa
2.25
Naos
ζ Pup
1,100
O4 If(n)p
2.26
Almach
γ And
350
K3 IIb, B9.5 V, B9.5 V, A0 V
2.28 (2.25 - 2.31var)
Caph
β Cas
54
F2 III
2.29
Izar
ε Boo
202
K0 II-III, A2 V
2.30 (2.29 - 2.34var)
–
α Lup
550
B1.5 III
2.30 (2.29 - 2.31var)
–
ε Cen
380
B1III
2.31 (1.6 - 2.32var)
Dschubba
δ Sco
400
B0.3 IV
2.31
Larawag[7]
ε Sco
65
K1 III
2.35 (2.30 - 2.41var)
–
η Cen
310
B1.5Vne
2.37
Merak
β UMa
79
A1 IVps
2.38
Ankaa
α Phe
77
K0.5 IIIb
2.39
–
κ Sco
460
B1.5 III
2.40 (0.7 - 3.0var)
Enif
ε Peg
670
K2 Ib
2.42 (2.31 - 2.74var)
Scheat
β Peg
200
M2.5 II-IIIe
2.43
Sabik
η Oph
49
A1 V, A3 V
2.44
Phecda
γ UMa
84
A0Ve
2.45
Aludra
η CMa
2,000[8]
B5 Ia
2.46
Markeb[7]
κ Vel
540
B2 IV
2.47 (1.6 - 3.0var)
–
γ Cas
610
B0.5 IVpe
2.48
Markab
α Peg
140
B9 III
2.48
Aljanah[7]
ε Cyg
72
K0 III-IV
2.50
Acrab
β Sco
404
B1V, B2V
References
Edit
External links
Edit