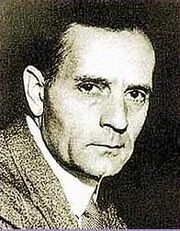 Hubble's law is the name for the observation in physical cosmology that:
Objects observed in deep space - extragalactic space, 10 megaparsecs (Mpc) or more - are found to have a red shift, interpreted as a relative velocity away from Earth;
This Doppler shift-measured velocity, of various galaxies receding from the Earth, is approximately proportional to their distance from the Earth for galaxies up to a few hundred megaparsecs away.[1][2]
Hubble's law is considered the first observational basis for the expansion of the universe and today serves as a form of evidence for the birth of the universe at a singularity.[3][4] The motion of astronomical objects due solely to this expansion is known as the Hubble flow.[5]
References
Edit